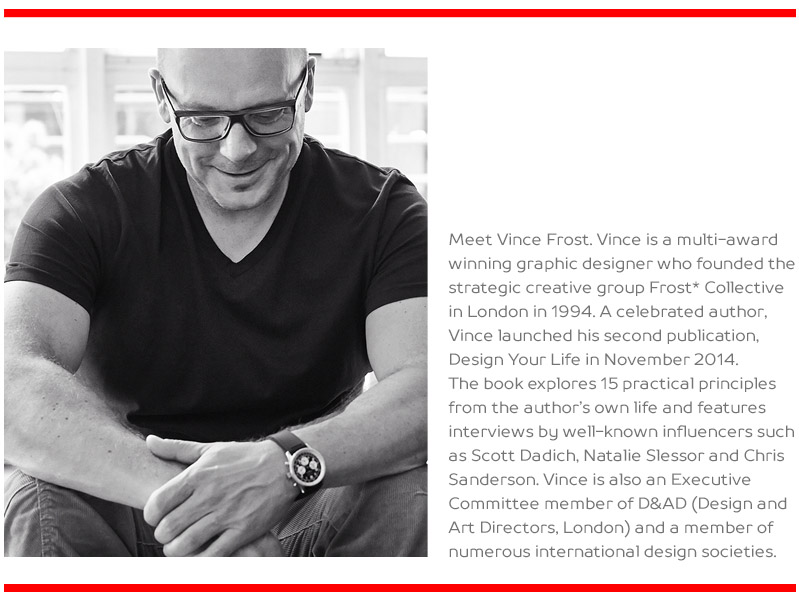 Crunite: Hi Vince, thanks for speaking to Crunite. Can you start by telling us your story?
Vince: Hi guys. Well, I got into design when I was quite young. I enjoyed graphic design at art school. (Grinning.) You should get my book: Design Your Life. It has all the facts about my origin story. I started a three-year course, then worked with a few design companies for a short time. After that, I joined Pentagram in London for five years, then I started Frost Design which I ran for about 10 years in London, and then I moved to Sydney Australia. I've been here now for 12 years heading Frost Design. I grew up in Canada and I worked in Japan so, really, my life has been all over the place.
Crunite: Is there a specific story behind Brand Frost?

Vince: Frost is my last name, obviously, so that's why I used the name Frost. I changed Frost Design to Frost Collective a few years back, so I now have three businesses: The Nest, which was the initial company; Frost Design, our strategic branding business; and Urbanite, which is our environmental design business. Moving these three businesses under one brand – Frost Collective – made us more effective as an organisation. We started with 40 people and now we have 50. We have a great team and a great environment here in Sydney. We're lucky that there are a lot of interesting things going on around here.
Crunite: A LOT of things – yes. You lead three companies, you write, you give talks and you also get involved in event like CEO cook-offs. Where do you find time to do all this?

"I like being busy. I don't like being very quiet."
Vince: Well, I am very, very busy. I just returned after a two-week book tour in London, New York and Glasgow. And I did about six talks there. I just find that I like being busy. I don't like being very quiet and taking it easy – I like networking, creating opportunities for my companies, working with my team, doing my talks, travelling, and marketing our offering around the world.
Crunite: Do you read books on design or research the subject?
Vince: Not really. I have thousands of books that I've bought, but I don't really read them, I just flick through them. I'm a busy person so I might just reference them. I spend so much time reading emails, Twitter, etcetera on my phone – it seems I read everything but books. I still buy books though. I love books as objects – I love the craft of the book.
Crunite: Where do you get your inspiration from?
Vince: Design inspiration comes from the client. So it's really important to me that our team understands the objective of the client. The brief outlines what they are trying to achieve and I enjoy figuring out how we need to design a successful outcome for them. Without the client, there is no work, there are no ideas. Very often, what is in the brief is something you have never heard of before. So it's always very interesting to achieve a successful outcome for them.
"Without the client there is no job; there are no ideas."
Crunite: That's a unique outlook, Vince. Is there any technique you use to stimulate creativity in your team?
Vince: There's a three-set process we use. Learn, Think and Create. Stage 1 is Learn, and that is about truly immersing yourself in the project, the brief, and the business – walking around it, questioning everything, listening deeply – that's where we uncover some really interesting opportunities or clues. Then we move on to thinking more strategically, taking those ideas and insights and analysing them. And then moving to the third creative stage and bringing those ideas to life. It's a straightforward three-step process. What is critical for a successful outcome is client involvement, transparency, openness and both sides wanting to agree on what the objective is. [We're] not just doing the job, we're doing it in ways that are going to become something rare, targeting that specific end user.
"There's a three-set process we use. Learn, Think and Create."
Crunite: Is there anything that takes you away from the computer when you are working on something?
Vince: My partner Miya, my kids, travel, nature, my staff, my team, my puppy Ralph, the beach, going for motorcycle rides, running and going to the gym – I get inspiration from all kinds of things. For projects, it is mostly from the brief. If I get stuck, I might just go for a walk as that sometimes opens the creative flow. I'm just very excited to be alive. I'm very excited about every day and every opportunity so I'm always buzzing with energy. There are days when I can't think of anything and I'm stressed or having a bad day, ideas not flowing. But then working together as a team makes a big difference. Collaboration can really help open up ideas through conversations, brainstorming, or workshops. Other people can bring great ideas to the table which helps to alleviate the pressure.
Crunite: Yes, collaboration is always useful. Are there any style icons that you look up to?
Vince: Not really. I don't think so.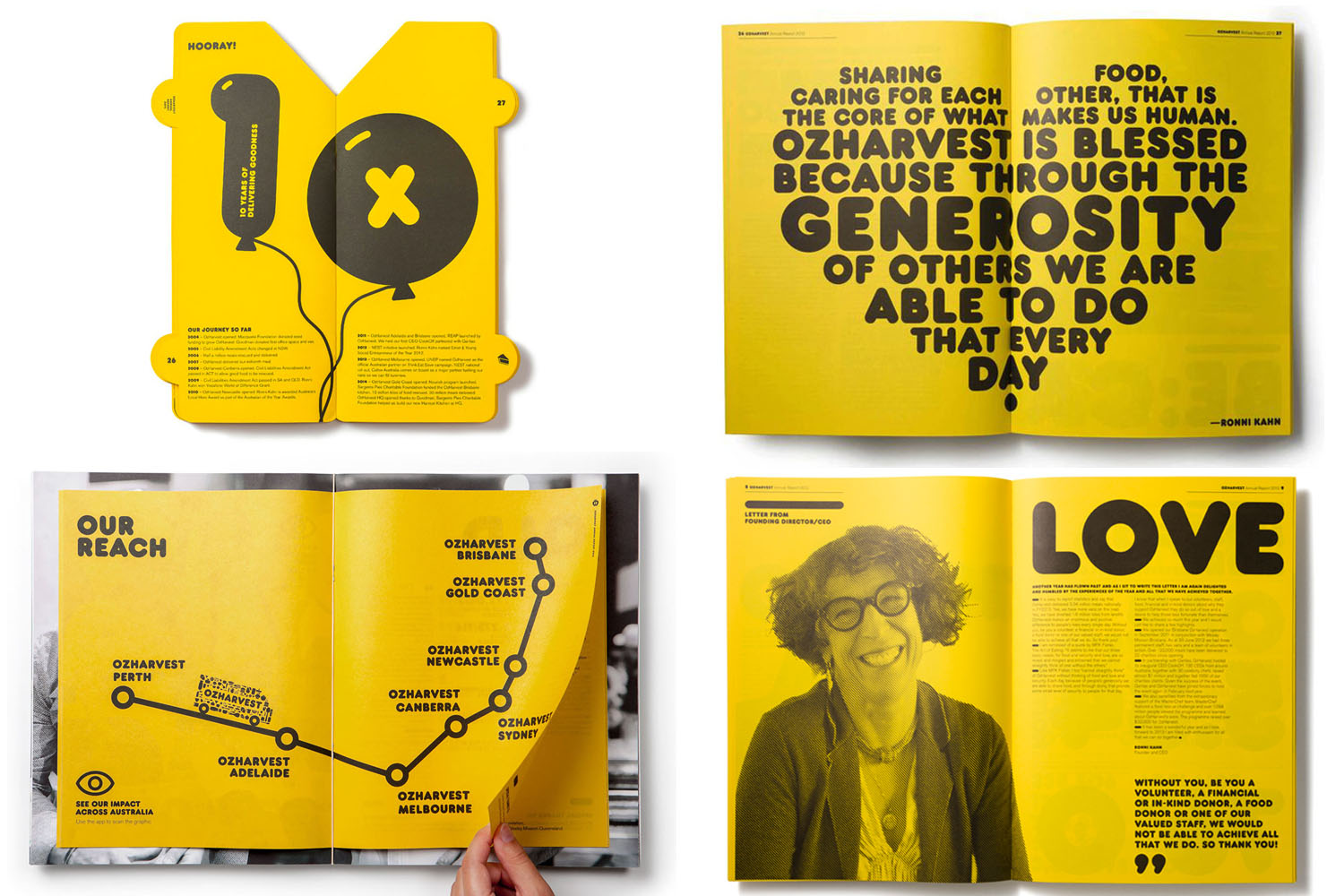 Crunite: Any designers that inspired you?
Vince: Yeah, when I was doing my art course there was Neville Brody and Fabien Baron – they have been heroes of mine. And Alexey Brodovitch who used to be the Art Director of Harper's Bazaar Magazine New York in the '30s – he was way ahead of his time, an amazing designer. Today, so many people are doing it, it's kind of hard to single out one specific person. And with the Internet and phone, the way we consume information today, it's also very hard to differentiate – there is so much great work being done around the world. I would like to say something stands out from the rest, but I guess I'm not really focusing on that. I'm focusing on our clients. I don't look for inspiration in other people's work.
Crunite: Vince, can you tell us why those three designers inspired you?
Vince: I think because they were very much focused on magazines – that combination of typography, photography and design. I like the three of them for different reasons but they were also much more expressive than other designers. I was very much in awe of what went into one of their creations and the teams behind the work. How they made those stories come alive and also just the sheer quality of the work in terms of the photography, the writing and the typography – all that was very inspiring for me.
Crunite: Vince, you are a leader in your field so we are intrigued to know your definition of a good design.
Vince: Well guys, for me, design is not just about typography, photography, colours, layout, etc. I utilise design to design an outcome. I am very mindful that design is not just an aesthetic. Design is a tool to create an effect. It touches our senses when we see something that we like or don't like. It touches our senses and triggers a reaction. A good design is something that is created to trigger a desired outcome.
"A good design triggers the desired outcome."
Crunite: Can you tell us a bit about your design process?
Vince: What we do is we work strategically in the meeting with the client, taking a brief, asking a lot of questions, and digging deep into the opportunity. So we are in a much more strategic position right from the beginning to tease out the opportunity. The design element comes much later so choosing a font or a colour or whatever, is something which is going to come further down the track in terms of what we are thinking about. That's how we work. Some people work hard at getting in there and doing design right at the start. That's how we used to work in the past. Then we evolved to be much more strategic in our thinking, because, quite often there's much more at stake today than before. Things are much more competitive and we need to be a lot more accurate with our recommendations. And so there's a lot of work that has to be done to get to that last point of designing successful outcomes.
Crunite: There's something uniquely 'Frost' about your designs, like the use of large bold sans serif fonts, solid primary colours and cropped images. Is this something that you consciously strive for?
Vince: I do probably focus on creating quite bold impactful graphic solutions. I'm not really interested in the more soft or delicate design. I guess most of our work is basically like that. What we do is not art, it is a commercial service. We're always working in a very busy environment so our designs need to stand out. But there's always an idea behind everything we do so it's not just design – we look for that ultimate idea in everything we do.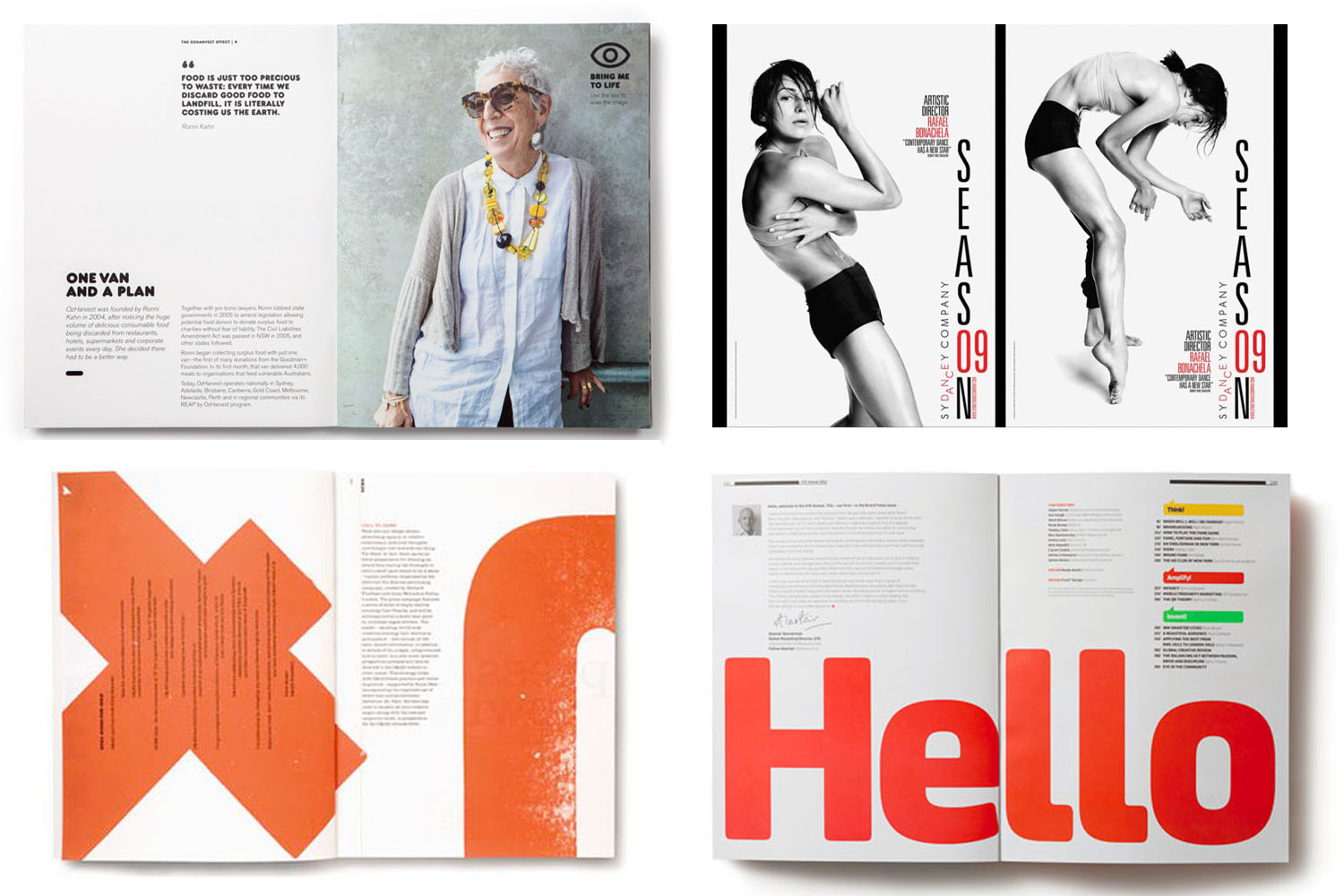 Crunite: So is there any piece of work that you are particularly proud of?
Vince: The work we're doing today is what I'm most proud of. We're working with the University of Wollongong on rebranding their business, we're working with a television station also on rebranding, and we're working on a record cover. There's a whole bunch of work we're doing that just makes me feel very positive about what we're doing today versus the future or in the past. I often say that we're very lucky with what we have and, more often than not, our dream projects are the ones we are doing right now.
"The work we're doing today is what I'm most proud of."
Crunite: Today, clients around the world are more cost-conscious and will often want more for what they're paying. Would you agree?
Vince: Yes, it may seem like people are becoming more cost-conscious. I guess everything is going up – salary, rent, supplies, equipment, etcetera, so you have to be much more effective with the time and resources you have. There's no fat anymore in the business, which is a good thing.
Crunite: Very true. Now here's a touchy subject, Vince. How do you work with clients who want something different from what you've designed?
Vince: The way we work is very transparent for our clients. We work with our clients to achieve the best outcome. We don't work in isolation. We don't do it in our studio and then present it to the client. We like to have them on the journey with us.
Crunite: So you have a relationship with the client from beginning to end?
Vince: Exactly, they are a very important part of that and they feel they contributed so there's no surprise and they buy into the ideas from the beginning. If you just go in with the design solution, it's much harder to sell because they are seeing it for the first time. They can't see the thinking behind it. So at the last minute, they may back out. I think you have to wow people. You have to have big, strong ideas behind your recommendation. That's why it's really important to us to bring the client with us on this journey.
Crunite: That's a great concept. We're curious though. Have you never had a difference of opinion with a client?
Vince: Sometimes, in the beginning, you might have a client who insists on a certain thing or a certain part being a specific way and you might be sitting there thinking "What are they doing? This is crazy!" But then, when you start working with them, I believe you can make something good out of it. I believe you can make something good out of anything. I think that if someone said to me: "It has to be Helvetica and it has to be in red," then I will focus on making it work. So it comes back to understanding what the key objective is, what the desired outcome is and then working towards that goal. And then the more intelligent and strategic we are with that, the less we're going to get hung up on details – because the client trusts our recommendation.
Crunite: That makes absolute sense. And now, before we go, what's the best advice you have to offer young designers?
Vince: Make sure you love what you do.
Crunite: Vince, thank you for your time and excellent advice!
Back